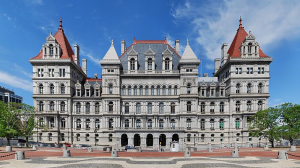 Located in the Capital District of New York, at Nationwide Legal Services, LLC we provide process service and attorney support in our local service area encompassing 11 Counties surrounding Albany. Through our extensive network of trusted professional process servers we can serve your papers anywhere in New York State as well as the United States.
Our office is fully staffed with reliable, knowledgable people to help you get the service that you need.
We perform daily service upon corporations through the NYS Secretary of State and upon all State agencies in and around Albany, NY.
Our principal Mark McClosky has been serving process since 1987 and is a longstanding active member of NAPPS as well as NYSPPSA where he is a past president, a founding member and a current Certified Process Server.
We stay on top of the ever changing laws and rules governing the process serving industry and take pride in serving your papers accurately, timely and with professionalism.

Serving All of Your Process Needs
Since 1987